2018 Oscars Buzziest Moments: Kimmel, Kobe, and Scene-Stealer Tiffany Haddish!
After last year's Best Picture gaffe, this year's Oscars ceremony was fairly predictable, especially when it came to the acting awards. But there were some highlights, including returning host Jimmy Kimmel's monologue, a moving musical performance by Mary J. Blige, and scene-stealer Tiffany Haddish from Girls Trip.
The ceremony wasn't as political as last year, but had a theme of empower, equality, and inclusion.
Below are six unexpected moments from the 90th Oscars:
E! Gets an F
E!, the network that hosts the Oscars red carpet show, came under fire when it announced it would be on a 30-second delay. The announcement came days after host Ryan Seacrest became the latest of several high-powered Hollywood men who have been accused of sexual misconduct. A delay would allow the network to cutaway from anyone criticizing him or the pay inequality between male host Jason Kennedy and his former colleague Catt Sadler. (Actress Debra Messing called out the disparity during January's Golden Globes).
Seacrest took his usual spot on the carpet, but Variety reports some celebrities actively avoided speaking to him. The host also did not mention the #metoo or #timesup movements, leaving the conversation to his female counterparts Giuliana Rancic and Kristin Dos Santos. Thankfully, Dos Santos discussed the movements and also brought up the lack of diversity (particularly Hispanics and Asians) in this year's nominated class.
Kimmel Targets Trump
Donald Trump was a popular target of host Jimmy Kimmel's jabs.
"None other than President Trump called Get Out the best first three-quarters of a movie this year," the late night host joked, referring to the Best Picture-nominated film where a black youth becomes the victim of a nefarious plan hatched by a white family.
Trump's vice president also got roasted. "We don't make films like Call Me By Your Name for money. We make them to upset Mike Pence." Pence supported LGBTQ conversion therapy while governor. Call Me By Your Name is a gay coming-of-age tale.
Later in the show, Kimmel took another stab at the administration.
"If the last two years have taught us anything, it's that reality can be depressing," he read. "But tonight's nominated documentaries show us where there is darkness, there is hope. Except at the White House, Hope [Hicks] quit on Wednesday."
Blige Brings Down the House
Mudbound's Mary J. Blige made history as the first artist to be nominated for Best Supporting Actress AND Best Song in the same year. Sadly, she lost both awards, but had one of the most incredible moments of the show, singing "Mighty River" backed by a choir.
There were many other wonderful musical performances, including Sufjan Stevens' haunting performance of "Mystery of Love" from Call Me By Your Name, and Common and Andra Day's rendition of "Stand Up For Something," dedicated to victims of school shootings and natural disasters.
Kobe Wins!
Kobe Bryant … yes, THAT Kobe Bryant is an Oscar winner. "Basketball players are supposed to shut up and dribble but we do more than that," the NBA legend said upon picking up his Best Animated Short win for Dear Basketball.
Jordan Wins!
First Kobe, then Jordan. Not Michael Jordan … Jordan Peele! The talented actor/writer/producer won Best Original Screenplay for Get Out. Peele made history as the first person of color (and third in history) to get nods for Best Picture, Best Director, and Best Original Screenplay. He is the first African American to win for Best Original Screenplay.
Tiffany Hadish is Oscars Telecast Gold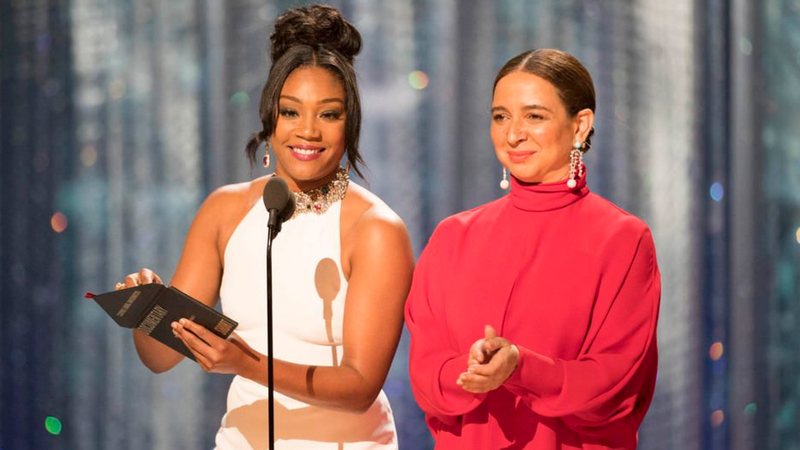 Oscar presenter and Girls Trip breakout star Tiffany Haddish had quite the night! First, she jumped over the rope on the red carpet to meet her idol, Meryl Streep.
Then, she made a SECOND shout-out (after a dress change) to Streep while presenting with Maya Rudolph. "Let's get this money girl," Haddish said to Streep!
Oscar producers, take note. There's already a movement to have Haddish host next year!

Lawrence is Editor in Chief of FANDOM. He grew up loving X-Men, Transformers, and Japanese-style role playing games like Dragon Quest and Final Fantasy. First-person shooters make him incredibly nauseous.
---