5 of the Best Superhero Costumes to Ever Appear On Screen
❤ 836 , Category:
News
, ⚑
---
A new DC exhibition has just opened in London, with more than 40 original costumes from screens big and small on display, alongside hundreds of original comic book pages and preparatory drawings. FANDOM spent a day at the show, and narrowed the 40-plus iconic costumes down to five of the greatest ever to have appeared on screen. These are our picks.
Batman — Batman (1989)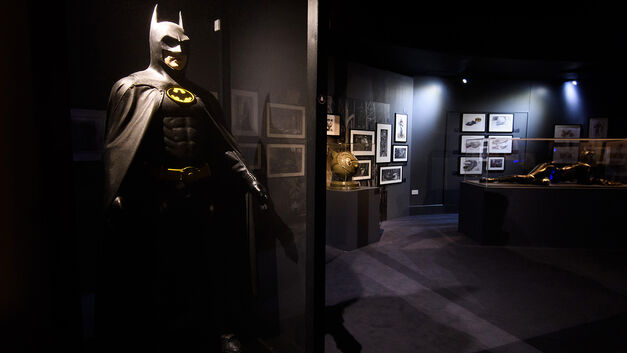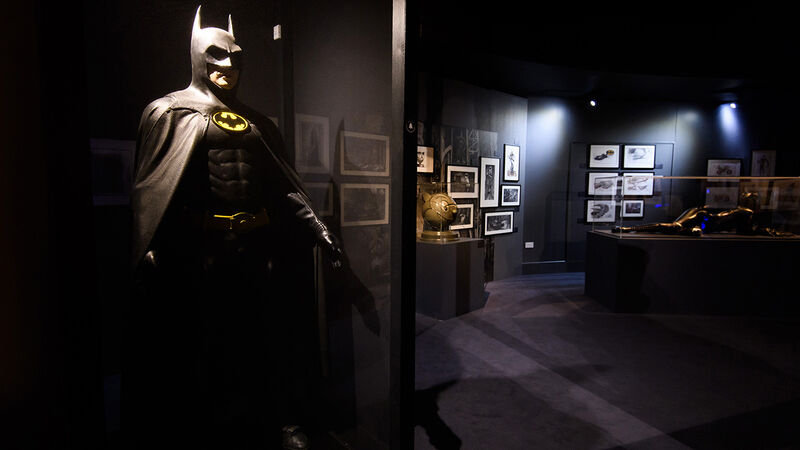 When Tim Burton brought his vision of the Caped Crusader to the screen, he was wiping the slate clean. Wanting to bring a more adult, darker aesthetic to the character – and universe — than he was portrayed in the camp 1960s TV series, Burton set about reimagining the iconic Batman costume for his big-budget, big-screen version.
Drawing on the comics, and edging away from the tights and Lycra of Adam West's Batman, he recruited costume designer Bob Ringwood who came up with a suit that felt more convincing, more protective and, crucially, more threatening. Ultimately, more befitting a vigilante intent on cleaning up crime in Gotham, and pitted against Jack Nicholson's deeply unsettling Joker.
Although it did appear to hinder actor Michael Keaton's mobility, it was a massively important design that would heavily influence future iterations. While Lindy Hemming's The Dark Knight costume, worn by Christian Bale in Christopher Nolan's 2008 film, might technically be better, it's standing on the shoulders of one very significant giant.
Superman — Superman: The Movie (1978)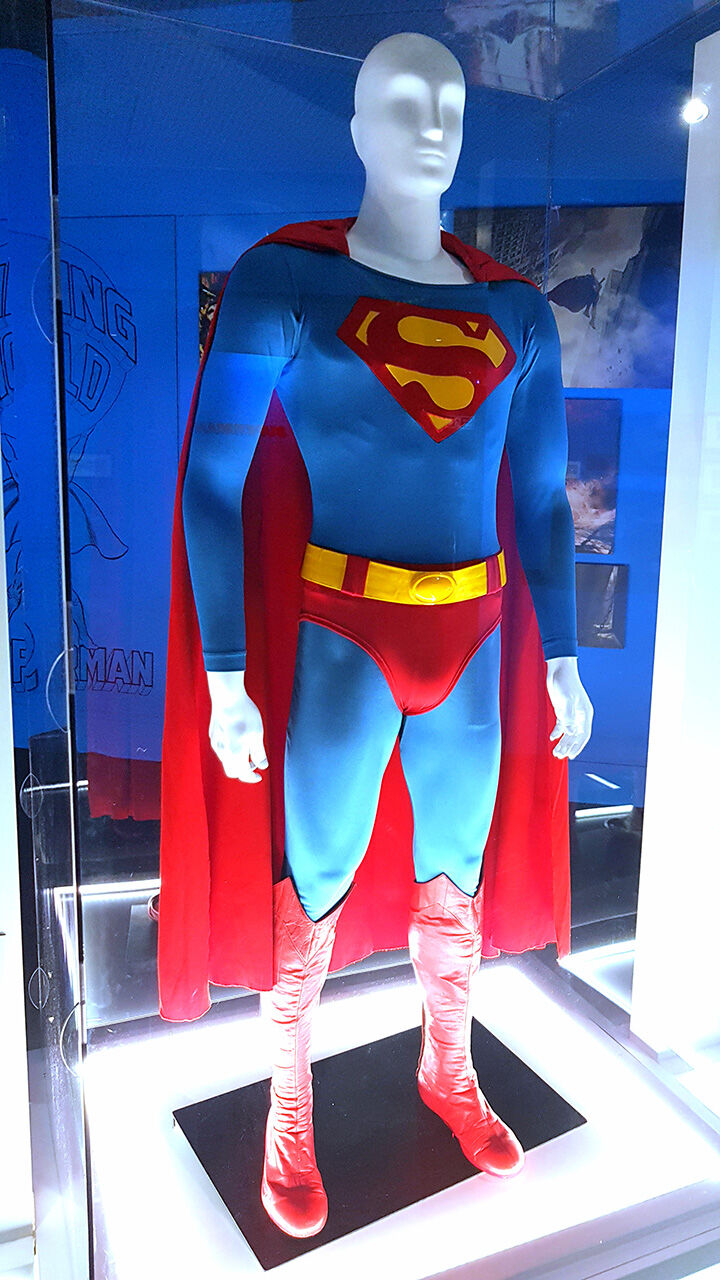 Richard Donner's Superman is still highly regarded today. Director Patty Jenkins credits the film as an influence on her treatment of Wonder Woman. But Christopher Reeve is just as fondly remembered as the film itself, for bringing the character to life on the big screen. And who could forget his 6 feet 3 and a half-inch frame squeezed into that skintight suit?
Reeve's suit was designed by Yvonne Blake, who mainly took inspiration from the comics. She used a German fabric that absorbed sweat, and appropriated a boxer's protection shield to disguise any manly lumps and bumps! Donner also used a teeny tiny version of the suit for special effects shots, which you can see on display alongside a little Lois Lane costume replica at the exhibition (and below). And which clearly wins the award for best exhibit of the entire retrospective.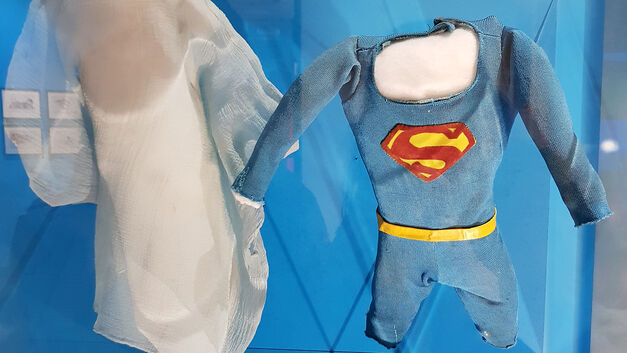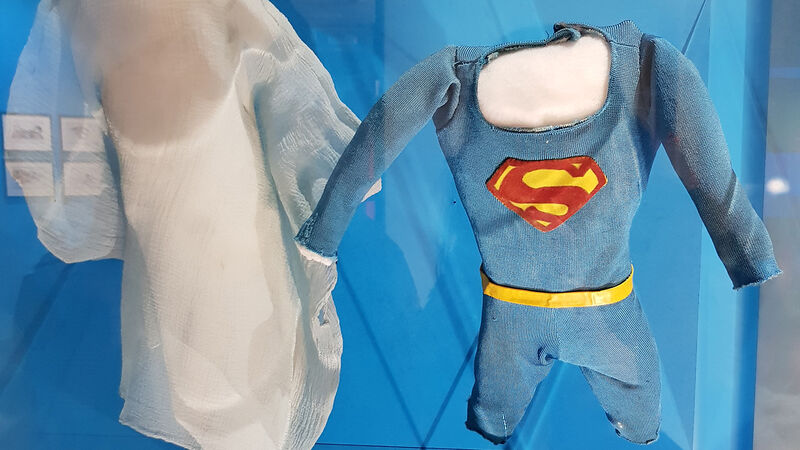 But while the fabrics may have changed, and the red underpants ditched, the essence of the costume really hasn't altered that much from 1978 to the suit worn by Henry Cavill today. Which only goes to prove how classic, and ingrained into our collective consciousness, that suit is.
Catwoman — Batman Returns (1992)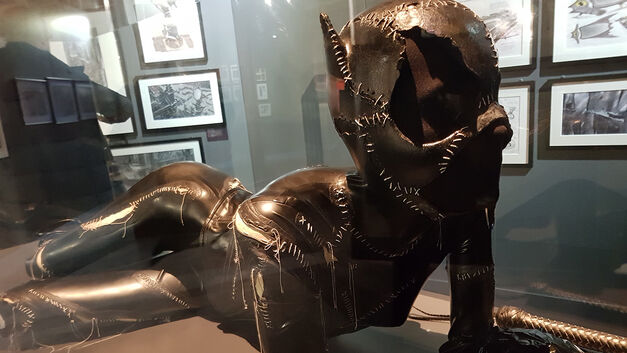 Seeing Michelle Pfeiffer's Catwoman outfit in real life is something for your bucket list. The attention to detail is pretty astonishing, and you'll marvel at how on earth Pfeiffer managed to squeeze herself into it.
Costume designer Bob Ringwood worked on the outfit with Mary Vogt, who told AnOther magazine that they wanted it to be "black and sexy and tight and shiny". Originally designed for another actress, Pfeiffer was actually a good fit for the costume. But she still had to undergo a torturous routine to get her into the suit. It involved a dowsing in talcum powder, assistance to get her inside it and then a vacuum-packing process. Pfeiffer also had a hard time with the mask, and has described the outfit as "the most uncomfortable costume I've ever been in".
It's made of latex, but Mary Vogt recalls that they were afraid of it ripping since latex is impossible to repair. So they made 40 suits. The famous stitches were added after Tim Burton requested them, and were sculpted then stuck on. But because they looked terrible, says Vogt, they brushed her in silicon, thereby creating that unforgettable super-shiny effect.
Wonder Woman — Wonder Woman (1975-1979)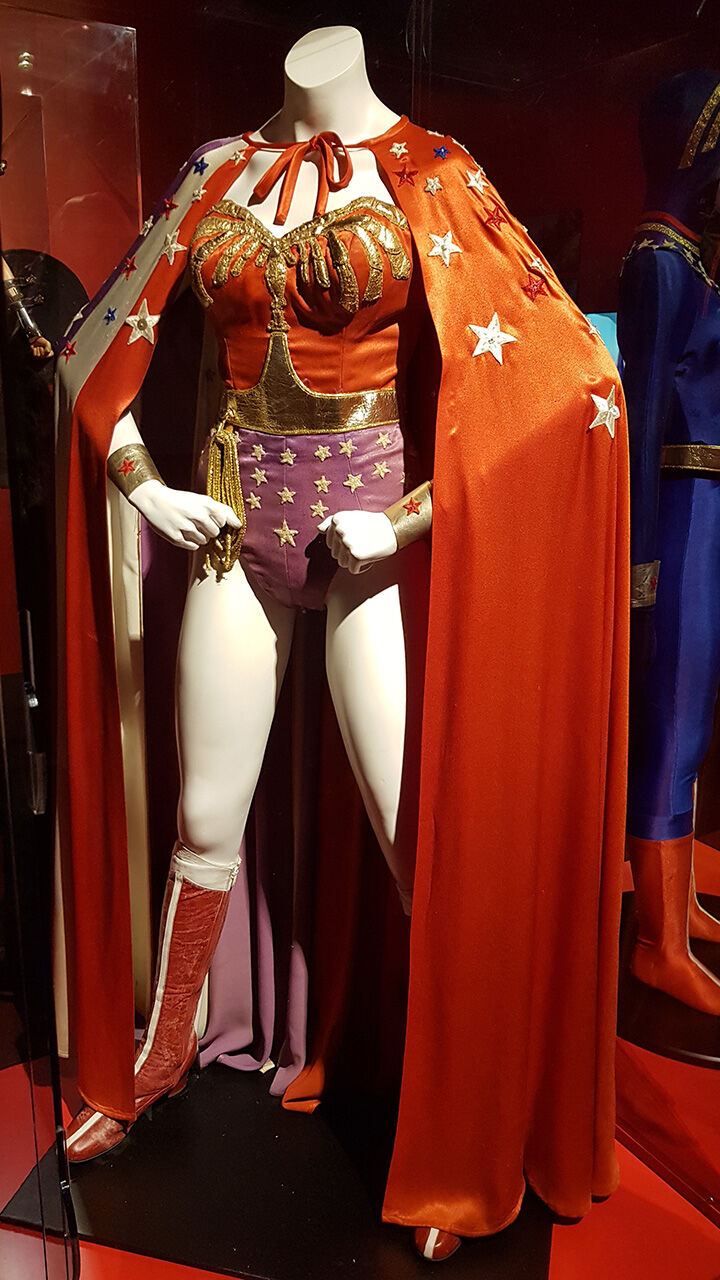 Although much attention has been paid to the most recent Wonder Woman costume to grace the screen – that worn by Gal Gadot – it's Lynda Carter's seminal outfit from the 1970s TV series that caused a bigger impression, and has endured in the public consciousness.
Costume designer Donfeld was the man behind the skimpy costume, which evoked the comic books but also delivered something original. The bandeau-top ensemble is often seen as sexy, and in its current iteration has been criticized for the part it plays in objectifying the character. However, Lynda Carter herself has defended the costume, which owes a debt to the one she wore, telling Australian publication Stellar: "Superman has got a big pouch in his crotch, so does Spider-Man and Green Lantern and their muscles are bulging – no one has a problem with that."
She added: "It's the ultimate sexism to say because she has big breasts and a costume on that is what you think represents her and who she is." She has a point. A million little girls growing up watching Wonder Woman on TV simply saw a strong woman to look up to – and a killer superhero costume to go with it.
Mr Freeze — Batman and Robin (1997)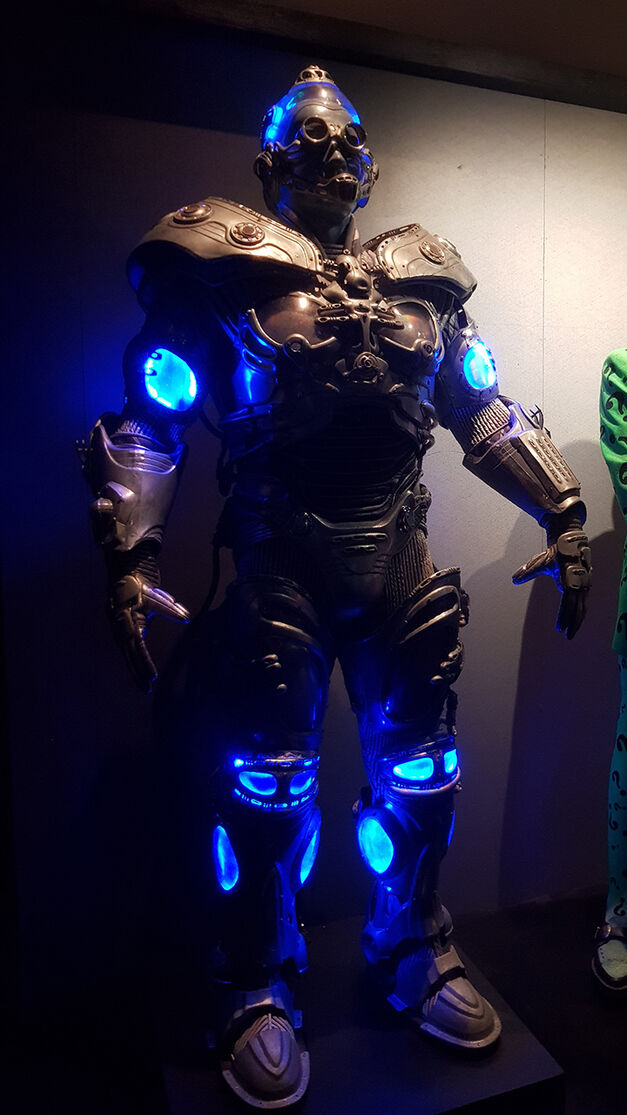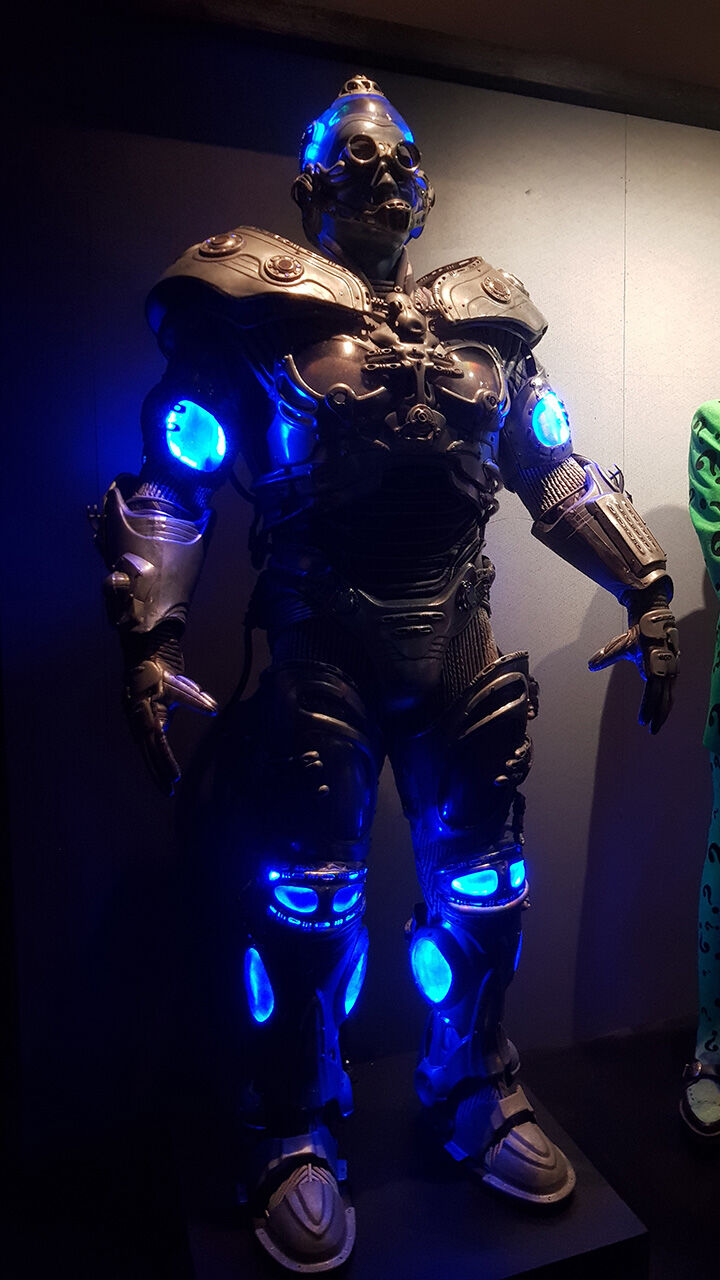 Described by the auction company who sold it as "the most incredible high-tech costume" they've ever encountered, Mr Freeze's outfit is impressive. Whatever you may think of Joel Schumacher's film, the man held responsible for giving Batman nipples scored a winner with Arnold Schwarzenegger's Mr Freeze suit.
Designed by Bob Ringwood and Robert Turturice, it incorporates a three-piece undersuit of padded iridescent tubing simulating refrigeration pipes and vacumetalised fiberglass armour. It also includes hand-beaten aluminium components, created by renowned armourer Terry English. Metal hoses from the helmet and breastplate attach to the costume's aluminium refrigeration control panel on the back. On top of all this, it's illuminated – which surprisingly posed the biggest issue for Arnie when wearing the costume.
During close-ups, Schwarzenegger's mouth was fitted with an LED lighting system, which required batteries to operate. Make-up artist Jeff Dawn who worked on the film told The Hollywood Reporter: "When you put it in Arnold' mouth, Arnold's salva would creep into the seams of this thing and attack the batteries. The batteries would immediately start disintegrating and start putting out battery acid into Arnold's mouth."
Not only unpleasant, but also highly dangerous. They found a solution, but since the light kept dying every 20 minutes, they had to stop often.
"Arnold is sitting there in this incredibly uncomfortable suit and it's costing us $5000 a minute to wait," he added.
Catch DC Exhibition: Dawn of Super Heroes at the O2, London from February 23 until September 9, 2018. For more information and tickets, visit www.DCExhibition.co.uk
Recent search terms:
movie quality superman suit
superman movies suit