Spoiler Alert: This post contains info about the Grey's Anatomy episode titled "You Really Got A Hold On Me." Proceed with caution.
---
Fans of Grey's Anatomy were treated to their first look at the Shondaland spin-off Station 19 in a dramatic crossover episode that introduced the new show's star. Andy Herrera (Jaina Lee Ortiz) made her appearance at Grey Sloan Memorial after shoving her hand inside the body of a young boy to stop him from bleeding out.
From there she quickly bonded with fellow badass Meredith Grey (Ellen Pompeo) and April Kepner (Sarah Drew).
So, Who Is Andy Herrera?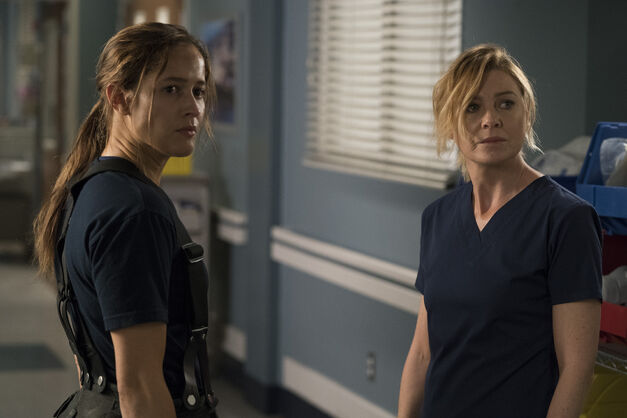 Andy is the Meredith Grey of Station 19. She's the show's lead and a powerful and capable woman to boot. She was raised in the station, the daughter of Captain Pruitt Herrera (Miguel Sandoval). It was her father who inspired her to be a firefighter, despite the dangers of the position. She plays by the rules and can't afford to mess up with the rest of the station watching and her dad looking over her shoulder.
Andy is going to have her hands full on Station 19. Not only does she have to deal with the rookie Ben Warren (Jason George), but she has two other men contending for her affections. There's Jack Gibson (Gray Damon), the station's fearless lieutenant, AND her old flame from high school Ryan Tanner (Alberto Frezza) who works for the Seattle PD. In typical Shondaland fashion there is sure to be plenty of drama both in and out of the fires.
Andy meets Meredith when she brings a 10 year boy to the hospital after a chemistry experiment he was conducting with his older brother went horribly wrong. Meredith and Andy realize they had similar childhoods, both growing up idolizing their parents before following in their career paths.
Meredith coaches Andy through the steps necessary to clamp the artery so she is finally able let go without killing him. In return, Andy calls the Spanish doctor Meredith has been trying to get a patient from and helps convince him to come to Seattle to speak with her. Ortiz already has great chemistry with Pompeo. With her fiery spirit and can-do attitude she will make a great lead of Station 19.
Let It Go
Much of this episode of Grey's Anatomy was about letting go. Ben has to deal with the fact that he let go of his career as a surgeon to pursue a different path as a firefighter. He never considered how much he would miss saving lives despite the fact that he is now saving them in a different way. Bailey (Chandra Wilson) has to let go of the secrecy surrounding her heart attack, and let her friends and fellow doctors in.
Jackson (Jesse Williams) and April have to let go of each other, even if they both think they already have. April is trying to replace her ex-husband with booze and flings with interns, but it doesn't seem to be working. And despite Jackson's good looks, he seems to be striking out with all the women he cares about including Maggie (Kelly McCreary).
However, the person who is having the hardest time letting go is Alex Karev (Justin Chambers). For the past few episodes he has been treating a young girl named Kimmy who has an inoperable brain tumor. Alex and Amelia Shepherd (Caterina Scorsone) have been attempting to find a treatment, even bringing in neurosurgeon Thomas Koracick (Greg Germann) to help. They are closer to finding a cure than ever, but Alex realizes it may not be in time to save Kimmy who most likely only has two months left to live. The episode ends heartbreakingly with Alex and Kimmy singing "Danny Boy", realizing there is nothing left to do.
Grey's Anatomy airs Thursdays at 8 PM on ABC. The two hour premiere of Station 19 airs on March 22nd at 8 PM.
Writer. Fangirl. Geek girl. Lover of hockey, coffee, superheroes & sci-fi