'Justice League' EXCLUSIVE: How a Sports Shoe Inspired Flash's Suit
Justice League is heading to Blu-ray, DVD and Digital next month, and we've got our hands on an exclusive clip from the behind-the-scenes bonus features in which the film's costume designer describes crafting Flash's suit.
Inspired by Sneakers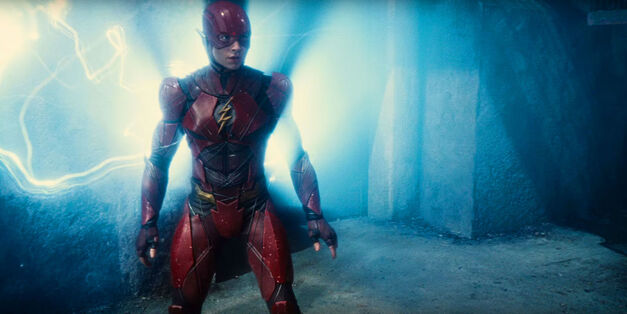 Taking the audience on a tour of what he calls "Flash's corner," Justice League costume designer Michael Wilkinson explains that director Zack Snyder wanted "A mixture of a hi-tech approach, but also lo-tech, so lots of beaten up textures."
He adds that as this is the start of Flash's story, Snyder wanted the costume to feel like a protoype suit that was "scratched and messed around with."
As for that sneaker connection, Wilkinson says "I had this idea that it's almost like a sports show in the way that you combine soft, flexible materials and then layer it up so it becomes harder and harder."
What's on the Disc?
Justice League arrives in 3D and 4K Ultra formats, but it's the extras we're excited about. Bonus material includes 'Road to Justice,' a documentary that features DC comic creators exploring 50 years of the Justice League. 'Technology of the Justice League' which examines Batman's arsenal and Cyborg's alien tech. And 'The New Heroes' in which actor Ray Fisher introduces new JL members Cyborg, Aquaman, and Flash.
There's also 'Suit Up: The Look of the League,' from which the above clip comes. And 'Steppenwolf the Conquerer,' about mankind's ancient enemy and villain of the Justice League movie.
But the extra we're most excited about is 'The Return of Superman,' a deleted scene that features the Man of Steel revisiting his Kryptonian ship and checking out his iconic black suit. Which Cavill teased in the above Instagram post some 18 months ago.
Justice League arrives on Digital Download March 12 in the UK, and on 4K ULTRA HD Blu-ray, Blu-ray 3D, Blu-ray and DVD on March 26th. A Steelbook is available exclusively with HMV, while the film is also available to pre-order now from Amazon. Justice League releases both digitally and on disc formats on March 13th in the U.S.
FANDOM Managing Editor in the UK. At this point my life is a combination of 1980s horror movies, Crystal Palace football matches, and episodes of I'm Alan Partridge. The first series. When he was in the travel tavern. Not the one after.
---