Ubisoft has had a penchant for creating short films to accompany its triple-A releases over recent years. We saw this with 2017's Ghost Recon: Wildlands, as well as 2016's The Division, and they seem committed to continuing this trend. Today they announced Far Cry 5 will also get the short film treatment and be titled Inside Eden's Gate.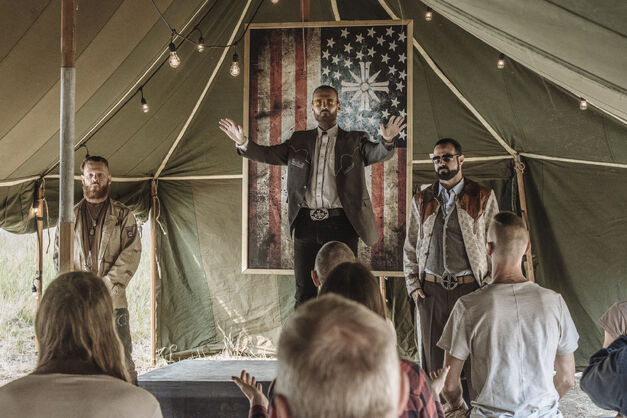 Inside Eden's Gate follows a trio of curious vloggers to Hope County, Montana after hearing rumors of a fanatical cult. The Project at Eden's Gate cult bewilders our protagonists, convincing them to dig deeper. As the vloggers dig into the cult they find more questions than answers and eventually come face to face with its leader, Joseph Seed.
Produced by Asylum Entertainment, Inside Eden's Gate features Greg Bryk (A History of Violence) and Kyle Gallner (American Sniper). It will release exclusively on demand via Amazon Prime on March 5th.
In Ubisoft's press release detailing Inside Eden's Gate, Senior Vice President of Marketing and Consumer experience Tony Key had this to say:
"At Ubisoft, we always strive to build worlds and narratives that actively engage our consumers both in and outside of our core gaming experiences."
Followed by:
"Our partnership with Asylum Entertainment provided a unique opportunity for the team to work with top-tier acting talent in Greg Bryk that bridges the consumers' experience from the short film to the game."
The previous short films have been steadily increasing in quality and by their statements it sounds like they are just getting started.
Far Cry 5 is an open world, action-adventure first-person shooter. As the new junior deputy, players must travel to the fictional Hope County, Montana to arrest Joseph Seed. This charismatic leader's cult is accused of kidnappings, torture, and countless murders.
This latest entry in the series is breaking the mold with multiple firsts. It will be the first Far Cry game to take place in North America, and the first to feature a customizable protagonist. It also marks the first time friends can play the entire game in drop-in/drop-out co-op and fly planes.
Far Cry 5 launches on PS4, Xbox One, and PC on March 27th, 2018.

Jada Griffin is the Community Manager of Gaming at Fandom. She's an Avid Gamer who roots for villains in Games & Movies. Her main Fandoms are Zelda, FF, DMC, D&D and most things Marvel/DC. She always Maxes STR & LCK and lives life on hard mode while searching for Pizza & the next difficulty level