Why 'Jessica Jones' is the Best of the Marvel Netflix Shows
Jessica Jones returns to TV screens for a second season on March 8, and we here at FANDOM can't wait. As it's a great series in its own right. And also the best of the Marvel Netflix shows thus far. Bettering Daredevil, Luke Cage, Iron Fist, The Defenders, and The Punisher. For the following reasons.
The Character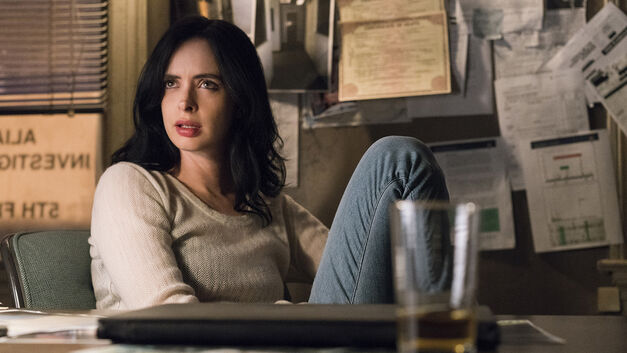 Jessica Jones is a complex, multi-faceted superhero, the likes of which we haven't ever seen on TV. She's the most reluctant of heroines, and who can blame her? Jessica came by her powers following the death of her parents in a car crash and a stint in hospital where terrible things were done to her body. So no wonder she isn't exactly overjoyed to have them.
The other Marvel characters in this TV universe have their backstories — almost always involving dead family members — but Jessica's has a horrific twist that makes it that much more engaging. Involving the darkest of storylines. Which we'll get to in a bit.
She's also the funniest of The Defenders. Deadpan, sarcastic, and deeply cynical, but also hilarious as she deftly puts down anyone who annoys her or gets in her way. These Netflix shows can be a little po-faced and serious, yet while Jessica Jones may be the most serious of the lot, its title character manages to cut through the grim subject matter with a string of hilarious one-liners. Delivered in note-perfect fashion by the delightfully sardonic Krysten Ritter.
She's also a woman surrounded by men. Big, muscly, macho men, frequently skilled in martial arts, who mostly let their fists do the talking. Yet, in spite of her many flaws, Jessica is stronger than any of them. Not physically — though in that respect she definitely gives the boys a run for their money. But rather, mentally — with Jessica a victim who in Season 1 confronted the demons of her past, and destroyed them. Making her all the stronger in the process. And a hero it's impossible not to root for.
The Storyline
Daredevil is dealing with blindness and a crime epidemic. Luke Cage has a past that's catching up with him and his own gangsters to deal with. Punisher is avenging the death of his wife and children. And Iron Fist is trying to get his family business back. But in Season 1 of Jessica Jones, our hero is dealing with the kind of trauma rarely seen in the genre. Making for a very adult superhero series.
Because the show's villain — Kilgrave — can force his will on others. He simply has to say the words, and Kilgrave's chosen victim will follow his instructions. Giving the character very nearly unlimited powers as he uses and manipulates those around him.
Season 1 unfolds after Jessica has escaped his clutches following months under his spell. The show hints at what happened during that time — with rape alluded to — and Jessica is very clearly suffering from serious PTSD. So when Kilgrave returns, it's both disturbing and terrifying.
Their ensuing battle of wits makes this the most compelling of the TV storylines, as it genuinely feels like a battle between good and evil. And right up to the season's final moments, it isn't clear who will come out on top.
The Villain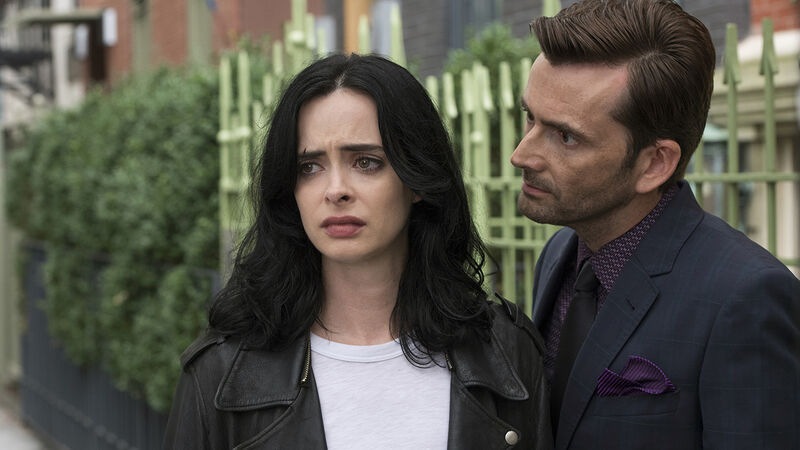 Superhero stories often live or die by the quality of their villains. There's a reason why Thor: The Dark World made very little impression on audiences. And that's largely down to Malekith being rubbish. Luke Cage and Iron Fist also failed to nail their baddies, and for that reason, those first seasons were largely forgettable.
Daredevil has a GREAT villain in the shape of Wilson Fisk, aka Kingpin. He's a monster of a man who is a great match for Matt Murdoch. The show also manages to make him sympathetic; no mean feat when you are depicting a cold-blooded killer.
But Kilgrave takes villainy to the next level. As played by David Tennant, he's charming and suave; the smiling face of malevolence. Yet his sinister obsession with Jessica is truly the stuff of nightmares. And with the #metoo movement gathering steam in the real world, Kilgrave's behaviour is all too believable; his inability to understand that he's doing something wrong reflecting so many of the stories that we are currently seeing in the news.
Watching a believable superhero do battle with a believable supervillain, therefore, gives Jessica Jones the edge over the other shows in the Marvel Netflix universe. With Jessica's story exciting and entertaining, sure. But also important and thought-provoking, the material staying with the viewer long after the credits for the last episode have rolled.
FANDOM Managing Editor in the UK. At this point my life is a combination of 1980s horror movies, Crystal Palace football matches, and episodes of I'm Alan Partridge. The first series. When he was in the travel tavern. Not the one after.
---